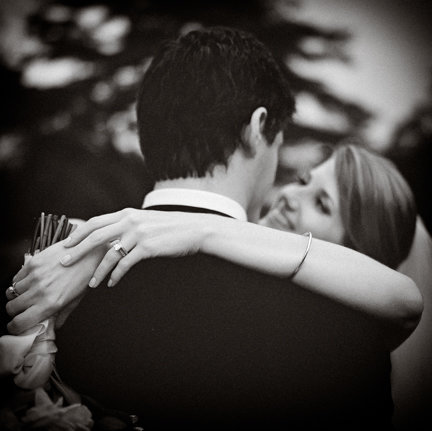 From the day we meet, you can be direct about your ideas and needs. As we continue to communicate openly during the approach to your wedding date, I can learn more about you as a couple, creating a clear understanding of your vision and objectives. On the day of your wedding, everyone can be themselves: sincere, spontaneous, and always candid.
For your convenience, I've compiled a list of frequently asked questions. If you have other questions, feel free to email me. Contact links are at the bottom of this page.
I hope a lot of this information is helpful to you. It's compiled from my many years of attending and observing weddings.
How long have you been a photographer?
I have been a full-time professional photographer for more than 15 years. I have photographed hundreds of weddings, corporate events, galas, and award ceremonies.
How would you describe your photographic style?
My style uniquely blends my photojournalist training with my commercial, fashion, and editorial photography background. I am very low-key, patient, and positive. I want people to walk away with a positive experience, not with the feeling that it was an intrusion to have a photographer there.
What information will you need from us before the wedding day?
I try to get to know my subjects. Before your wedding, I will meet with you to go over as many details as possible—everything from family members and important friends to going over the day's schedule. If needed, and if the schedule allows, I can visit the venue with you a few weeks before your wedding. This is an excellent opportunity to go over all the logistics within the location(s).
Will it help if we give you a shot list?
Yes, that is a good idea. It also helps me get an idea of what your expectations are. The chances are that most of the things on your wish list are things I already cover, but I like to double-check and see if there are any unusual requests. At our pre-event meeting, I will write out a family tree and write down the names of immediate family members and all the people in your bridal party. We will review all the group combinations you will want.
How will you know who everyone is, should we assign someone to help you?
I ask all my couples to assign an "Event Guide." Someone to identify people/objects of whom/which specific photographs are needed and make sure that these subjects are available when needed. The event guide should be someone who knows both families well (at least know all the faces). I'm often thinking about lighting, posing, creating the shot, and getting the subject's attention during the shoot. Having someone there to assist in identifying or gathering people is extremely helpful and will make things go smoothly and quickly. The more time we have (in quantity and efficiency), the better photos we can create together.
How much time do we need for getting ready and prep photos?
It's usually about 30 to 45 minutes. For prep photos, we start by photographing details like rings, shoes, dress, suits, invitation, and so on. As well as photos of you and your family and close friends in your casual clothes before you get dressed up. Once you are dressed in your wedding day attire, we capture you buttoning up, tying bows, ties, and accessorizing. These photos are great establishing shots.
I recommend that you should be ready with your hair and makeup already done when we arrive. There's no point in us waiting while your hair and makeup is being done. Unless you want photos of before and after make up.
How much time do we need for portraits and family photos?
Thirty minutes for the couple alone, 30 minutes for the bridal party, 30 minutes for family photos, and a 30 minute grace period. This way you won't feel rushed, and you can be more relaxed getting to your ceremony. Try to plan enough time, especially if you have a big family and are looking to do many different portrait combinations.
Can we get all the photos done in less than one hour?
A lot of that depends on how big your families are and all the combinations we'll have to do with the two of you and them. As well as how many groomsmen and bridesmaids. It can be done. If you want to walk around and take advantage of the grounds (and different spots at your venue) and get more creative with the photos, then one hour is sort of tight for time. However, for small weddings, just the two of you and if you have small families, an hour is more than enough.
We are trying to decide if we should have a first look pre-ceremony, what do you think?
I always highly recommend doing the first look and all the photos before the ceremony. I say this for a number of reasons. Your make-up and hair is fresh. So it's a great time to get all the photos done(and out of the way). When you walk down the aisle, you will be done with posed photos. Your wedding begins, and you can just be. When you have your first kiss as a couple, you can run off, drink, and celebrate without having to gather all your people for photos. You can coast through the rest of the day.
Also, the "first look" before the ceremony can be a great moment. It's a great time to meet, hug, kiss, and relieve a lot of tension. It's something that can be set up in private. It's an excellent time to connect and be together.
We want our family photos outdoors, what's your advice on that?
For outdoor photos, it's good to have a backup plan in case of rain. If there's a park you love, have a backup plan for an indoor space you love as well. Also, think about sunlight. The best light for portraits is going to be in the shade if it's a sunny day. An overcast day is a perfect day for photos. You also want to have all photos done at least a half-hour before sunset. Plan the schedule accordingly so you have enough daylight to do what you want. Remember, the sun goes down early in the fall and winter months! Plan to do photos earlier in the day for those months.
I'm not photogenic. What can I do to get better photos?
Having had worked with countless celebrities in the past, one thing I can say for sure is that they don't look any different than most of us. Celebrities have a lot of experience in front of the camera. As we spend more time in front of the camera and seeing the results, we learn what works and what doesn't. My advice is to have more photos taken on a regular basis. Much like learning a new language, you will feel shy at first, but eventually, you get the hang of it. An engagement photoshoot also helps with this. It allows the couple and the photographer to establish a relationship and figuring out what works. But even that, it's just one hour or two. So please do some practice of your own. Practice, practice, practice. A lot of times I wish we could do two or three photoshoots before your wedding. I'm open to the idea if you are.
How any hours, including editing, do you spend on each wedding?
For a full day's event, there's average of four hours of prep prior to your event. Eight to ten hours of actual coveratge on the wedding day. And at least twelve hours of editing. I'd say 25 to 30 hours per wedding.
Who is your second photographer?
My second shooter varies from wedding to wedding. I'm part of a network of professional photographers I've worked/collaborated with over the years whose work is similar to mine, and are a pleasure to work with.
What will you and your second photographer wear?
We will dress like guests at your wedding.
Do you have insurance?
Yes, I do. Many venues will refuse to allow any wedding photographer in the door without liability insurance.
How many photos will I get? Will you do any edits or retouching?
Depending on how many hours and how many photographers, it can be between 600 to 900 photos. Count on at least 80 photos per hour covered. After your wedding, we do color correcting and some very light/mild retouching.
How are photos delivered?
All final edited images are distributed through an online gallery. All photos can be downloaded in high resolution. Prints, albums and other products can be ordered directly through this gallery or you can print your own images after downloading them.
Do you offer album making and design?
Print and book/album making has become very convenient (using your computer) and inexpensive (through a number of on-line services). Most of my clients opt to do their own albums and enlargements. There's no need to pay for albums and prints upfront. For this reason, I do not offer packages with prints, albums or album design. However, if you ever decide you want help with prints or album(s), I can give you a list of print and album makers (or album designers).
Will I get the rights to reproduce my wedding photos?
Yes, once you have the files, you are free to make enlargements, posters, albums as you desire. All of these details will be included in your contract agreement.
What's the best way to contact you?
•
Click here for

WEDDING

date inquiries
•
Click here for

OTHER

inquiries