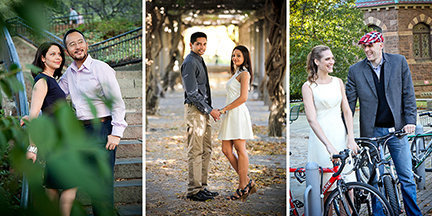 Free Engagement Shoot
When you pay for wedding photography, there's a lot of overhead of running a wedding photography business included in your price. This includes equipment costs, equipment repair and maintenance, data back up and storage, liability insurance, websites, marketing and promotional materials, studio or office rent. Of course there is the eight hours of physical labor on your wedding day and at least another eight of hours of editing and preparing your photos after your wedding. Another chunk of hours that is not often talked about is the time spent on sales calls and in person sales meetings prior to booking.
If you choose to book me after viewing my on-line portfolio (i.e., you already know of me and my work, you are ready to book), and no pre-meeting is required, you will get a free engagement shoot with your package. The time we would have used sitting for a sales meeting (which normally runs 60 to 90 minutes), we can spend on a photo shoot. It's a greater value for you. For me, I'd rather be making photos than having a sales meeting.
Offer ends February 1st, 2019 (for weddings taking place in 2019 through 2020).